Annoying Orange Wiki
Welcome to Annoying Orange Wiki,
The 
Manual of Style
 is a guide that is pertinent to all articles created that fall under the scope of Annoying Orange Wiki. It helps clarify the content and makes the encyclopedia much more simple for fans of The Annoying Orange to read. The goal is to make the entire encyclopedia more convenient for contributors to use. In their opinion, not following the Manual of Style deliberately is still considered a kind of spam. It takes a user three chances before they can be blocked from editing due to disruption. However, this is not required on talk pages or non-article edits (see below)
Wiki Rules
Do not vandalize pages. You will get a warning and might get blocked if you continue. If you wish to experiment, please visit the Vandalism Wiki.
Do not spam the comment area.
Do not use heavy profanity.
Do not claim you're an admin or bureaucrat if you have not earned the position already.
Do not add any false content on this wiki. If you want to add any fictional content, visit the Fanon Wiki. If you are an Annoying Orange member and you've seen a new video only members has access to, please wait until it was uploaded for everyone else.
Read Full List
List Of Active Admins
| Sysops | Description |
| --- | --- |
| 68duck | I'm 68duck. Don't be an Apple, contribute to the Annoying Orange Wiki! Vandals will be knifed! |
| Loveable Cats | Hi. I'm Loveable Cats, a new admin, Chat moderator, Content Moderator, rollback, and Discussions Moderator of this wiki |
| Randomness Central | I'm RandomnessCentral! message me on my talk if you need anything, watch out for knives! |
| SEPTA 8074 | I'm SEPTA 8074. message me on my message wall if you like. And if you need anything, watch out for knives, squashes and TNTs!! |
| Khaled Ketata | I'm Khaled Ketata. Big Annoying Orange fan and Big Annoying Orange Wiki editor. Get it? Feel free to ask me any questions about Annoying Orange! Did you do it? Did you do it yet? |
See Also
Community News
Main article: 2020 Category Project
The 2020 Category project is a community organization project managed and operated by Loveable Cats. The main purpose of the project is to remove unnecessary and duplicate categories from pages so this wiki can be better organized.
About Us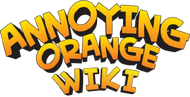 Annoying Orange Wiki was launched in January 18, 2010 by KooKooManGuy. At that time, the wiki was relatively small, garnering only a few more contributors. While the wiki was being started, there was only one thing in mind: making the best, most reliable, and cleanest reference source about The Annoying Orange. The Wiki started to grow drastically when Danny, the wiki's special and smart user, and Bryce, the wiki's king, started to contribute. Because of their participation, the wiki's persistent vandalism and spam have been erasing quicker and easier. Please help the wiki by cleaning up vandalism and building up stubs. Thank you for your participation!
Community content is available under
CC-BY-SA
unless otherwise noted.