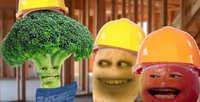 Work in Progress!
Category policy is being edited slowly by Brainulator9, and may undergo critical changes while this message remains in place.
As a courtesy, please contact the user before making edits on this page.
If no changes have been made by the editor above for over three weeks, this template may be removed if necessary.
The category policy on Annoying Orange Wiki is a guideline which encourages users to refrain from repetitively adding false and unnecessary categories.
What this means
All sorts of contributors have persistently added nonsensical, unnecessary categories, such as:
Male One Show Characters (unnecessary)
Remarkable Shorts (nonsensical)
The administrators have tried to clean it up due to this cause, but the adding would never stop. So this guideline will help educate the users about what categories to add, and which ones to not.
Only categories allowed
The list is incomplete; the list only applies to pages added to the below categories only.
One Show Characters/Multiple Show Characters
Deceased Characters/Living Characters
Antagonists/Protagonists
Season [number]
Characters portrayed by Dane Boedigheimer/Characters portrayed by a guest star
On Shorts pages
The category itself
Season [number]
Parody Videos (only if it is a parody)
What if I want to add a category, but is not on the list above?
Please contact Danny, the top contributor of Annoying Orange Wiki, either by email or by leaving a message on his talk page on the wiki. He will shortly respond to ignore or accept your request.
If you add a category not listed above without prior discussion, you will immediately be blocked with an expiry of 24 hours, and you will be warned simultaneously. Within that period, you have the right to protest; if it is accepted, you will be unblocked before the expiry. If you have to be blocked a second time, the expiry will be at least one month, but can range depending on the number of pages you put the unnecessary category on. A third time will result in you being permanently banned from editing the wiki. This policy may seem very strict, but, with this bad behavior, getting near the spotlight will not happen. The top contributors have strived to make this the most comprehensive and organized wiki to learn about The Annoying Orange.