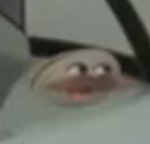 The
Hidden Mustachios
are hidden characters. After the episode
Mystery of the Mustachios
, many more Mustachios have appeared hidden in epsodes of the Annoying Orange. have been secretly hiding in episodes, starting from
Wazzup Blowup
. The reason for this was a Facebook competition. They appeared most abundantly in season 3. One even appeared in an episode of
The High Fructose Adventures of Annoying Orange
.
Locations
Best Fiends Forever: Between the toaster and the bottle at 1:44/in the mess at the bottom left corner at 3:53.
ZOOM!: At 0:20 under the left hot plate (blocked by caption that says "Thumbs up for ZOOM!!!) /under the toaster at 2:40 while.
Mommy and Me: At 1:32 under the toaster while Mama Orange and Orange are annoying the crap out of Yam under the toaster 2:17 while Yam is being knifed on the toaster knob and under the hot plate on the stove.
Juice Boxing :2:14 at the toaster and 2:50 beside the toaster.
Fruit for All: At 0:15 on the lower right corner and at 1:46 on the steps near Banana.
Trollin': At 1:15 on the toaster latch and at 3:47 behind Pear.
YouTubers: At 1:18 under the tripod and at 3:33 in the credits at Knife.
Be a star!: At 0:41 on Pear's camera for a half second.
The Voodoo You Do!: At 2:24 On a candle; 3:13 hidden right inside the O in the "annoyingorange.com" caption.
Gallery