"We could really use a "little" help around here."
This article is a stub. Please help Annoying Orange Wiki by expanding it. Thank you!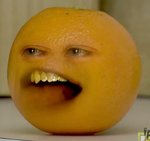 The
Nya-Nya-Nya
noise, called so by
Orange
, is a famous noise he makes in the first episode, and almost every episode after. While it is usually made by Orange, some other characters have made it, occasionally in a certain variant. It is depicted as a sound that goes "nya nya nya" which is made when he sticks out his tounge to one side of his mouth, and gently bites down on it. He has even included this sound in songs.