YouTube is a human version of a website known as "YouTube" and the main antagonist of the WAF crossover, YouTube Meets Daneboe and The Annoying Orange! He meets and annoys Dane Boedigheimer and Orange in his only appearance. YouTube starts out being created by Dr. Interwebz, and immediately decides to pay Dane Boedigheimer a visit. After tampering with Dane Boedigheimer's game, YouTube encounters Orange, who attempts to annoy him. YouTube then injects Orange with the swine flu. Boedigheimer then barks at YouTube for doing so. However, YouTube anticipated Dane getting startled and soiling himself, he was correct.
Quotes
"Stop playing that game, Daneboe!"
"God, shut up!"
"I'm YouTube!"
Trivia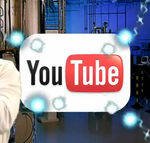 He is one of the few characters who annoyed Orange.
YouTube's behavior in the video is possibly because of all the inappropriate content (i.e. offensive humor and YouTube Poops) found on the actual site. However, inappropriate videos can be marked as one by clicking the flag button.
Even though he annoyed Orange, he's still a huge fan of his videos, giving him 5 stars.
He gave Orange the swine flu with a syringe.